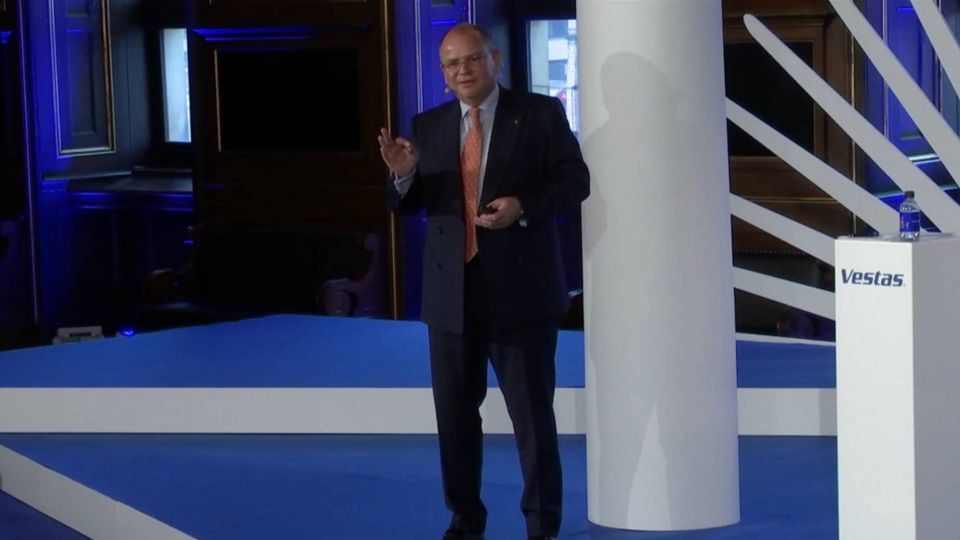 Capital markets days are often a forum for companies to present big visions for the future – perhaps launch a new product, a new economic strategy or something else that can function well as an uplifting conversation topic with shareholders or potential investors.
That was not so much the case on Vestas' capital markets day on Wednesday this week.
To be fair, Chief Executive Henrik Andersen did reconfirm the goal stated in the OEMs last interim report about achieving an earnings margin before interest and taxes of at least 10 percent by 2025. That, naturally, is not a given considering the heavy year for the industry as prices squeezed profits throughout the sector – a tight grip Vestas says is far from overcome.
Otherwise, the CEO and his team of division chiefs spoke of broader matters: about the big potential of the global energy transformation, about Vestas' sole status as a truly global wind turbine manufacturer, about the OEM's growing role as project developer, about the ever-profitable service unit – and about modular turbines meant to boost value for both producer and customer.
From LCoE to VoE
Regarding the latter, Vestas Chief Sales Officer Javier Rodriguez Diez repeated a point several times that the levelized cost of energy (LCoE) has nearly lived out its usefulness as a metric, which the industry has otherwise spent great efforts hammering into the collective consciousness as the way to gauge renewable energy's march toward zero subsidy. Now levelized costs should be replaced by the Value of Energy (VoE), he says.
The point here is that wind power is moving away from being a cheap commodity that cannibalizes its own value due to supply glut when the wind blows. For instance, by adding batteries or electrolysis systems into newly launched sidecars of modular nacelles, output value can be increased considerably, the CSO said.
At the same time, LCoE is accused of being an accomplice in the continuous pressure on wind turbine prices – a weight to which Vestas doesn't contribute, Diez said, referring to a graph showing a similarly derided metric of price development – average sales price per megawatt, which this year has made something of a comeback being that it can indicate whether an OEM manages to pass on their higher input costs to customers.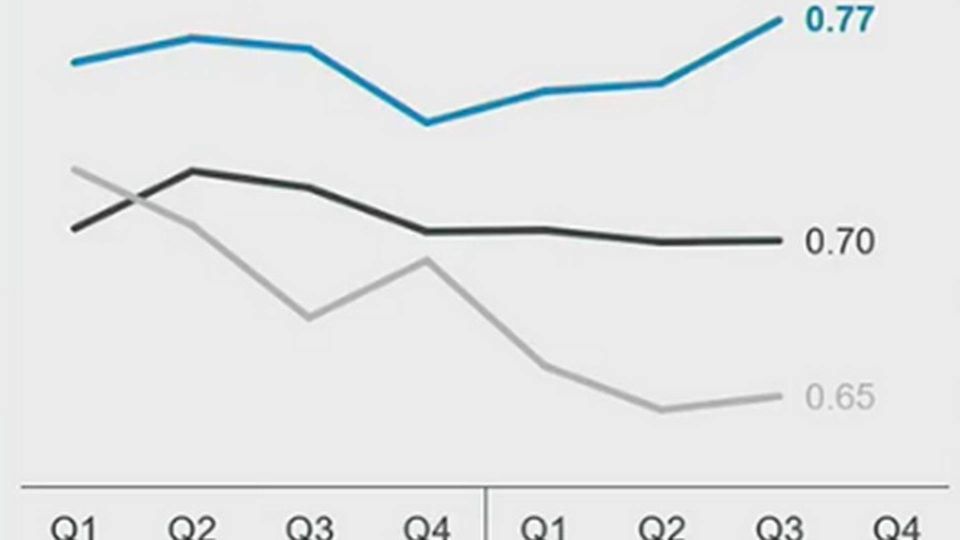 Had the corresponding graph been shown a few years back, ASP would not only have been markedly higher, it would also have contained significantly more competing lines. However, several turbine makers such as Senvion have either gone bankrupt in recent years or, like Nordex and Acciona, merged into larger groups – also like Siemens Wind Energy and Gamesa.
That has – at least outside of China – left behind a market for rather few and mainly large manufacturers: Vestas, Siemens Gamesa, General Electric Renewable Energy, with Nordex trailing behind at some distance. Meanwhile, remaining groups such as Enercon and Suzlon have come into even bigger economic trouble in recent years.
Some will disappear
This trend, Andersen says, is far from over.
"Consolidation has led to the four largest OEMs sitting on roughly 90 percent of today's market. And we can offer an insight: It's not a fantastic market for being medium-sized with limited market presence," the CEO said.
"We know that because we reacquired our offshore wind business as a fully legitimate part of the family. It's difficult if the idea is to live off globalization and at the same time invest in technology while also addressing local production. It's nearly impossible to make work even in the best Excel sheet."
Andersen's insights could be interpreted as claws coming out when food gets scarce. That's hardly to say that Vestas or the other big western OEMs are having a heyday, and Andersen predicts that a future graph like the above will show even fewer rivals.
"Consolidation will occur. Some are certain to merge – and as you have seen, this is not always an easy maneuver – and others will likely disappear and their remains picked up," projected the CEO, who, despite the direct jab at Siemens Gamesa, seemed to say that the German-Spanish manufacturer's model would probably have been the best thing for customers.
"Customers have experienced both parts. They clearly prefer consolidation so they're not left standing with half-complete projects. But I believe that's the world lying ahead of us. That people will be forced to abandon things if they can't manage, and today the risk is likely greater than ever. For some, costs are so large that some projects will have that effect."
Doesn't hold
The absence of shiny future visions unveiled at Vestas's capital markets day can be attributed to the difficulty of eying a resolution to the industry's current problems.
Prices of both steel, copper and composite materials for turbine blades have at least doubled over the last year. The same is true of freight rates. Meanwhile, a increasing number of countries – and in an extended sense customers – continue to expect continuously falling prices while at the same time demanding more localization.
"We have an adjusted EBIT margin of 4.7 seen over the latest 12 months. We'd like to have more, but we also want to take the opportunity to say that, as an industry, this cannot continue," the CEO said:
"Things can't continue like this for an industry that's supposed to solve large parts of the energy transformation, develop technology and localize while working with negative EBIT. It doesn't hold."
Steel at the old price
Throughout a longer period, Vestas has – and has not been alone as such – noted that the company's path through the tough period is being maintained through strict discipline: to for no reason take on projects at any cost. Alongside announcements of renegotiated prices with clientele, the unconditional demand for profitability could explain the rise in ASP.
That, however, is not necessarily a route cleared of all risk. During the OEM price war around five years back, it turned out that, as a rule, competitors were willing to take a job if the first nominee declined on account of excessively low prices. An approach too strict could also mean leaving many blank pages in order books, resulting in expensive, idle production capacity.
In any case, the fact is that Vestas is for the first time in an extended period looking toward annual order intake less the year prior. Furthermore, while Andersen acknowledged there being delayed orders, he rejected the notion that the Danish turbine maker risks mounting an economic horse so tall that the distance down to the market becomes too great.
"I don't think we're pricing ourselves out of the market. If someone says that prices haven't increased, then these are the ones potentially pricing themselves out of the market in a very awful way," the CEO made clear.
"Costs are rising, and they're rising at double-digit rates. That's life. I have not met anyone able to buy steel at the old prices, and those that have had – but have run out of – deals for steel at those prices will soon discover that some tough working days are waiting ahead."
Vestas to double service earnings up to 2030
Vestas CEO: Ten-year PTC extension opens huge potential
Tight-lipped Vestas management witness to new revelations on stolen data last weekend