Although the Chinese energy system is undergoing massive changes to become more renewable, there is still strong growth in the country's consumption of coal powered energy, shows new energy statistics.
During 2017, the collective electricity consumption in the country grew with 6.5 percent to 6,417 TWh in total. In hard numbers, that is equivalent to a growth of 382 TWh, and coal-fired power plants were responsible for more than half of that increase. In comparison, Danish electricity consumption in 2017 was smaller than one-tenth of Chinese growth (31.1 TWh in total.)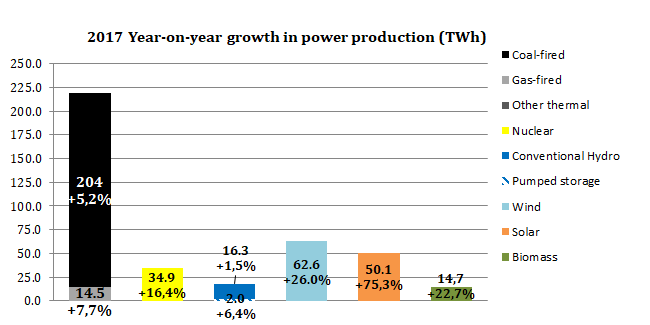 Source: China Energy Portal
The China Electricity Council already presented preliminary numbers for the development back in January, but the new statistics contain fresh details.
EU and China sign new carbon trading agreement
Even though the vast majority of Chinese electricity production still comes from coal, things are moving forward with the introduction new, renewable energy sources. Thus, production of solar panels and wind turbines became categories with highest growth, measured in percent, in the electricity mix in 2017. Solar panels went from producing 66 TWh in 2016 to producing 116 last year, which is equivalent to an increase of 75 percent. Wind energy capacity increased by 26 percent to 303 TWh in total. The two energy sources made up 4.7 and 1.8 percent of the total electricity mix, respectively.
China pulls the emergency brake in response to too many turbines
Together with the large Chinese hydroelectric sector, wind and solar power made up one-fourth of domestic electricity production in 2017, approximately 1,500 TWh in total.
On the demand side, renewable electricity production almost corresponds to the electricity consumption of all the country's inhabitants plus consumption in the service industry.
Source: China Energy Portal
English Edit: Ida Jacobsen