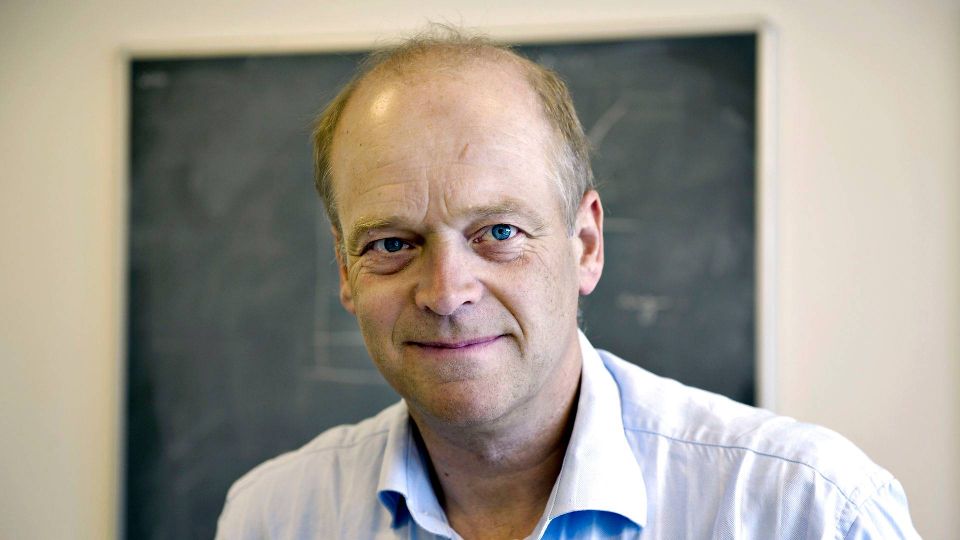 Henrik Stiesdal is a dying breed in the private business sector – an old-fashioned inventor type who is constantly trying to come up with a revolutionary idea cable of solving societal problems.
For more than four decades, he has been a force propelling the Danish wind power industry – both as an inventor and, not least, through a ten-year term as chief technology officer for Siemens Wind Power.
Already as a 19-year old, he developed his first wind turbine in his home workshop, and his pertinacity within the wind energy sector has been so great that the business community refers to him as 'Mr. Windpower'.
The 62-year-old Stiesdal in fact announced that he would retire few years back. But the inventor cannot keep still, he quickly acknowledged. Stiesdal has come up with more than 200 inventions, and he's now ready with a new invention he himself says might be just as seminal as Denmark's wind energy industry.
"My wife once said that I'm a fiasco as a voluntary pensioner, and when I see how much I'm actually working at the moment, I'm inclined to agree with her."
The endeavor began around four years ago, when Stiesdal had an idea that turned into Skyclean – a process of converting agricultural surplus and waste products into biocoal and climate-neutral jet fuel via pyrolysis, a process of heating hay and manure in an anaerobic chamber.
"I have been very interested in how to solve the climate crisis – how technology can make production climate-friendly. This turned my attention to agriculture, which actually accounts for 20 percent of Denmark's carbon emissions," Stiesdal says.
Pyrolysis prevents carbon gases from surplus hay and manure from escaping into the atmosphere, as the CO2 is bound within biocoal, oils and gases.
The technique has the potential to remove 50 percent of the Danish agricultural sector's carbon emissions – that is, if Skyclean is integrated into the industry.
"There's nothing new about gasification of plant material, like we do with Skyclean. So, one could readily challenge the novelty of this project. However, I think our design, which concurrently reduces carbon emissions from farming and produces climate-friendly jet fuel, is new," he says.
Ever since Stiesdal came upon the idea, he has worked alongside researchers from the Technical University of Denmark (DTU) and Aarhus University to further develop the theoretical basis of the project, which will soon be ready for empirical testing.
That the domestic agricultural sector could cut half its emissions with a single technology might sound too good to be true – but the research team supports the project's feasibility.
The system works as such:
Plants absorb atmospheric CO2 while growing during spring and summer.
More than 90 percent of this carbon dioxide is again released into the atmosphere as hay and plants are harvested and rot. Skyclean is about preventing that gas from leaving the earth again via the aforementioned pyrolytic, anaerobic process.
Biocoal does not rot, and thus binds 50 percent of carbon mass captured by plants from the air. This carbon is then stably sequestered for several hundred years. The net result is that the more jet fuel produced, the more CO2 is removed from the atmosphere.
Altogether, the researchers think that the system could halve the country's agricultural emissions.
Beyond cooperating with the two aforementioned Danish universities, Stiesdal is also working with Siemens on Skyclean and is confident that the design could become one of the country's next big export successes after completing testing.
"Skyclean is very well suited as an export venture, just like the wind turbine industry. It's a unique technology, is a fine fit with Danish industry and can be easily adapted to other countries. And there are no other technologies capable of anything close to it anywhere else in the world."
Stiesdal is also confident in calling Skyclean a solution of major importance and one that Denmark can claim as its contribution to mitigating climate change.
"We have a huge climate challenge, which as I see it can only be solved with new technologies. The world's need for food is increasing, and that's why it's important to produce food more efficiently without having negative repercussions on the environment and climate. I haven't seen anything that can improve the carbon footprint at the scale of Skyclean," Stiesdal says.
The big question is how does Skyclean go from being a development project in the world of research to becoming a commercial success?
For the system to become a reality, it will require the cooperation of a several players: researchers for development and testing the technology, agriculture to supply hay and manure for pyrolytic processing, industrial companies to build the processing plants as well as energy companies to operate the plants and subsequently convert the oils ans gases into jet fuel.
Lastly, aviation will supply demand, as the sector comes under mounting political pressure to pursue climate neutrality.
An important aspect of Skyclean involves the oils and gases remaining after pyrolysis being combined with green hydrogen to synthesize jet fuel.
"From a business perspective, Skyclean could become a new market from the manufacturing industry, the energy sector and agriculture. But in reality, it's really society that benefits most from Skyclean through making process in tackling climate change," Stiesdal says.
According to Skyclean researchers, one final piece of the puzzle needs to be found on how to convert to bioproducts into jet fuel.
Right now, Stiesdal is trying to raise funding to complete the research. This will require a smaller figure in DKK millions.
"I can't say much about financing right now. It's an ongoing process, and we're exploring our possibilities for finding money from several places," Stiesdal says.
The major bill remains further on the horizon. If Skyclean is going to manifest, Stiesdal and company will need to raise DKK 400 million (EUR 53.54 million) to build a full-scale plant to test Skyclean at a commercial scale. As soon as testing is complete, Skyclean will, in principle, be ready to send to market.
But DKK 400 million is still a lot of money for a technology still under development, Stiesdal concedes.
"I think the benefit that can be achieved for Denmark's climate efforts is so great that this is something the state ought to consider financing or at least co-financing," he says.
Are you saying that because you can't find financing elsewhere?
"Regarding research and development of an entirely new technology, that's rarely something businesses will put money into," he says.
If the potential is as big as you say, shouldn't the large energy companies become involved?
"When we get further into the process, then yes. But until we have it tested and verified, it's still just a research project."
How then do you imagine the state will finance Skyclean?
"I hope we can be funded through the state budget or that we can get some grant money allocated to sustainable research," Stiesdal says.
English Edit: Daniel Frank Christensen & Jonas Sahl Jørgensen
Shell and Innogy to initiate floating wind project with Stiesdal
Stiesdal's new concept aims to ensure clean jet fuel